Control panel

Your profile

Social

Private messages

Other
It's simple, the Vikings are dead broke and need the fans to bail them out…..
It's unfortunate that mismanagement of such a prestigious franchise has squandered all hopes of a great off-season for the Minnesota Vikings. Rob Roby's bright spirit has now been overshadowed with darkness of the days ahead. However, there is light at the end of the tunnel for his Vikings. Recently the age old franchise added some newer talent to the offense and defense. Amongst their youthful signings, the Vikes inked a deal that sent Kyle Rudolph and Brand Carr along with a 2016 1st round Pick 6 to the Seattle Seahawks for Earl Thomas III. A very optimistic ETIII briefly spoke to us about being traded and negotiations with the Vikings.
Berman: How has your relationship with Sherman been since the LOB was broken up and sent virtually on a 1 way flight out of Seattle?
ETIII: Sherman and I will always be LOB , & brothers first. It was sad to get the news so abruptly, but my family and I have adjusted very fast and so we are just looking towards the future we have awaiting in Minnesota.
Berman: What about Seattle's hand in this situation? Any hard feelings?
ETIII: They'll never be able to throw the ball my way again….
(Laughs)
Berman: You're here, but you haven't been active. In fact, its still Free Agency for you. It appears that the Vikings are having some transactional problems with the league and thus you might not take the field this Preseason, at latest Game 1 of the Regular season.
ETIII: Well mistakes happen, and like Beyonce says "of course some shit goes down when there is a billion dollars on an elevator". ----I guess for me and Sherman it was a trillion dollars on an airplane------(laughs)
Berman: COACH!! (further laughs)
ETIII: Again, I'm optimistic and even though I cant suit up with my new teammates, they are with me every day and some have even come to work out with me in my private facility.  I'll be right there on the sideline all Preseason long until we can come to an agreement.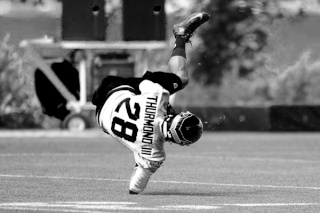 Berman: How positive are you that you will be a Viking this year?
ETIII: I'm excited and very optimistic. I know Rob Roby will get the deal done
Berman: Super Bowls….Is this team ready to win?
ETIII: I have had a chance to speak with many players including Rob Roby and Mr. Peterson. I know we are going to be a contender as soon as the pieces are put together.
Berman: Speaking of pieces: Teddy Bridgewater, AP, Mike Evans, X Rhodes, Patterson, Felton, Britt, Barr, Munnerlyn, Harrison Smith and Yourself-----Is this the pick up game of football we all played when we were kids? Do you see this unit being able to stay together?
ETIII: I would say we have the ball surrounded from all angles! I can't wait to take the field with so much young talent. This will be the greatest game of pick up you have ever seen.
Berman: ETIII Good Luck!! And we wish you much success in Minnesota….
ETIII: Thank you

mixdownking




Posts

: 25


Join date

: 2014-11-04



I hate Chris Berman but this was pretty good, lol

rams6164




Posts

: 31


Join date

: 2014-11-22


Location

: Charlotte, NC



---
Permissions in this forum:
You
cannot
reply to topics in this forum